CONTACT US
LOCATION MAP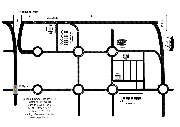 Our Company Profile
Gulf Reinforced Plastics L.L.C. (GRP), established in January 2002, is a company uniquely specialized in the Fabrication, Installation, and Maintenance of Glass Reinforced Piping whether Polyester/Vinyl ester or Epoxy Pipes and High Density Polyethylene (GRP, GRE, FRP and HDPE piping).
GRP head office is in Abu Dhabi UAE, also has operations registered in Qatar, Oman & KSA (under license of Gulf's Reham Reinforced Plastics. Co. Ltd.).
GRP is supported by a team of qualified engineers and technicians having over 25 years of experience in this specific field.
GRP undertakes turnkey contracts for installation works of glass reinforced piping produced by various manufacturers in industrial projects like oil and gas, power plants, desalination plants, chemical plants, and vessel ...